10 motivos para não perder o show da Pitty em Porto Alegre
Por
Ana Bittencourt
Cerca de dois anos depois da última turnê, a baiana Pitty desembarca em Porto Alegre com o show "Matriz". Acompanhada pelos músicos Martin Mendonça (guitarra), Guilherme Almeida (baixo), Paulo Kishimoto (teclado) e Daniel Weksler (bateria), Priscila Leone, nome de batismo da cantora, fez seu retorno oficial e definitivo aos palcos em junho do ano passado (2018). Depois de algumas apresentações isoladas e ocasionais, Pitty e banda saíram em turnê pelo Brasil e agora chega ao
Pepsi on Stage
, no dia 05 de outubro.
Preparamos uma lista com dez motivos para você não perder o show da turnê "Matriz" em Porto Alegre. Confira!
1. NOVO ÁLBUM E NOVAS MÚSICAS
L
ançado em 26 de abril desse ano, Matriz é o quinto álbum de estúdio e oitavo de vinil da cantora baiana. E mais: é o primeiro depois de cinco anos, quando Pitty lançou Setevidas (2014). As novas músicas já estão a toda na turnê, com destaque para os lançamentos mais recentes: "Contramão", parceria com Tássia Reis e Emmily Barreto (Far From Alaska), "Te Conecta", com uma sonoridade diferente e várias influências, além de "Na Pele", parceria com Elza Soares. O disco traz uma mistura interessante de rock and roll e elementos brasileiros, com destaque para a baianidade latente da cantora.
Álbum Matriz (Imagem: Divulgação)
2. A PRESENÇA DE VELHOS E CERTEIROS HITS
Além de uma penca de novidades, a nova turnê também reserva espaço de honra para grandes hits da carreira da baiana. É sucesso atrás de sucesso, fazendo a tônica perfeita para agradar novos e velhos fãs. No setlist não faltam faixas como Anacrônico, Memórias, Admirável Chip Novo e Na Sua Estante.
3. ESPAÇO PARA RARIDADES
O show de Matriz joga luz em raridades que foram pinçadas pela cantora para compor o setlist. A turnê é a oportunidade certa para incluir músicas que não faziam parte do repertório da Pitty há algum tempo, entre elas, Temporal, Desconstruindo Amélia, I Wanna Be e Teto de Vidro (em versão acústica!)
4. NOVO INTEGRANTE NA TRUPE
Disco novo, músicas novas, nova turnê e... novo integrante. A formação atual conta com um novo baterista: Daniel Weksler (NX Zero). Ele assumiu as baquetas em 2018, no lugar de Duda Machado, baterista da formação original. A sintonia entre Daniel e a banda é perfeita, inclusive com a cantora. Sim, Daniel é marido da Pitty. E esse é o detalhe fofo do motivo número quatro.
5. COVERS DE RESPONSA E INFLUÊNCIAS DE PESO
Durante o show da turnê Matriz, Pitty se reencontra com influências musicais importantes. Entre elas, a do "Pai do Rock Brasileiro", o também baiano Raul Seixas. Discos dele e de Rita Lee fizeram parte da infância da cantora e isso tem reflexo na tour atual. De Raulzito a banda buscou Metamorfose Ambulante. Mas esse não é o único cover do setlist. Dançando, da banda Agridoce - projeto paralelo da Pitty - também está lá. E de vez em quando rola um coverzito de "La Casa de Papel". Então, esteja atento e preparado para surpresas.
6. CENÁRIO ESPETACULAR DE EVA UVIEDO
Eva Uviedo, artista plástica argentina radicada em São Paulo assina a cenografia da turnê Matriz. Produzindo trabalhos para o mercado editorial e publicitário, capas de discos e livros e projetos como a interessantíssima série "
Sobre Amor e Outros Peixes
", dessa vez a artista se aventura na concepção de desenhos para o palco da cantora Pitty. Os trabalhos estão em sintonia com a proposta da turnê e traz a ideia da volta às raízes, da busca pela simplicidade e reencontro com canções do início da carreira.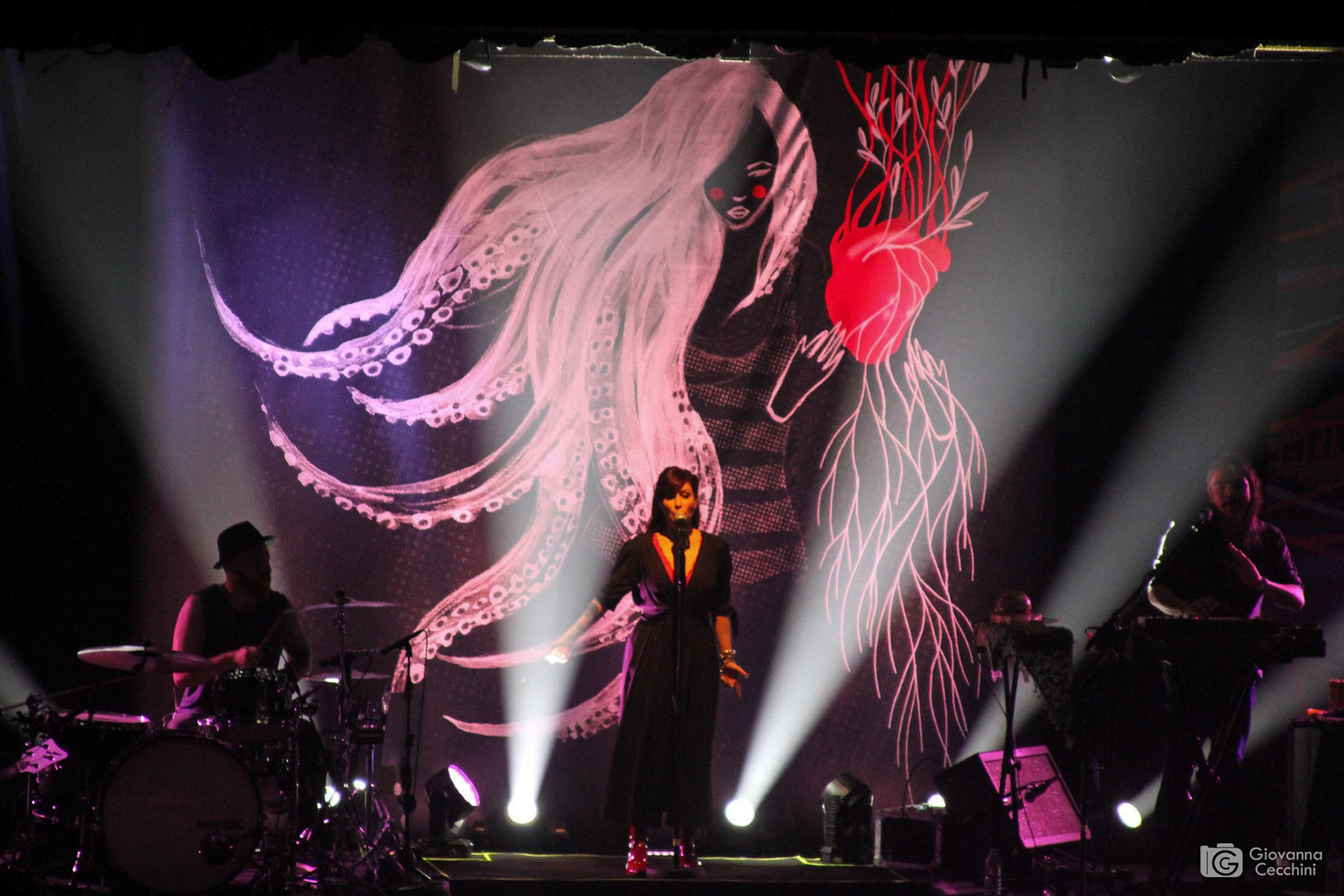 Cenário assinado pela artista gráfica Eva Uviedo (Foto: Divulgação)
7. INDICAÇÃO AO GRAMMY LATINO 2019
Não bastasse a qualidade sonora do novo álbum, a força da turnê Matriz foi reconhecida nesta terça-feira (24) com o anúncio da indicação de Pitty para o Grammy Latino 2019 ao prêmio de Melhor Álbum de Rock ou de Música Alternativa em Língua Portuguesa. A baiana foi indicada ao Grammy junto com outros dois conterrâneos: o músico e eterno ministro da Cultura, Gilberto Gil (na categoria Melhor Álbum de Música Popular Brasileira), e a banda de rock e reggae BaianaSystem (indicada nas mesmas categorias que a Pitty). Aliás, o grupo participa do show Matriz em Porto Alegre. Portanto, o palco do Pepsi on Stage vai receber dois indicados ao Grammy Latino 2019 na mesma noite, em 05 de outubro.
9. EXCURSÃO COM O SELO GRINGS-TOURS DE QUALIDADE
Ainda que o show na capital gaúcha seja em um sábado, muita gente prefere a tranquilidade de viajar de excursão, sem precisar dirigir ou se preocupar com horários. Marcando presença como tem feito há dez anos em outros grandes shows já realizados em Porto Alegre, a
Grings - Tours, Produções e Eventos
pretende cair na estrada para levar fãs da Pitty ao seu encontro. Aliás, esse é a deixa pra você conferir as
cinco vantagens
de viajar de excursão com a GT.
Foto: Katarina Benzova
10. O CONVITE DA BANDA
O último motivo - não menos importante - muito nos orgulha. Fã incondicional da Pitty, a fotógrafa santa-mariense Alice Pozzobon acompanha a banda nas redes sociais. E vez ou outra troca uma ideia com os integrantes, mais especificamente com o baixista Guilherme Almeida. E numa dessas conversas Alice falou que está de mochila e lentes prontas para o show em Porto Alegre. Foi aí que surgiu o nosso décimo motivo para você não perder o show da Pitty no Pepsi on Stage: o convite dos guris: Guilherme Almeida, Martin Mendonça e Daniel Weskler. Então, se você tá a fim de embarcar nessa trip, assiste o vídeo abaixo e depois reserve seu lugar na excursão
clicando aqui.
SERVIÇO:
O QUE:
Pitty (Participação especial: BaianaSystem)
QUANDO:
05 de outubro, sábado, a partir das 22h
ONDE:
Pepsi On Stage (Avenida Severo Dullius, 1995 - Porto Alegre)
ABERTURA DA CASA:
20h
CLASSIFICAÇÃO:
16 anos
REALIZAÇÃO:
Maia Entretenimento e Opinião Produtor
INGRESSOS:
www.sympla.com.br